About the Author - Archeaologist - TC Kuhn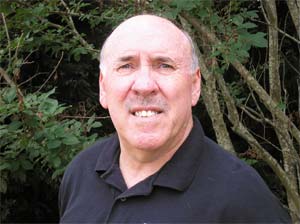 The author of The People of the Stone series brings to the subject of Prehistoric Native America a unique perspective based upon more than thirty years of direct involvement in the area of Native American studies gained from several points of view and experiences. As a professional archaeologist he has worked both in the Southwest, where he attended graduate school at Eastern New Mexico University, and in the Ohio Valley (the primary location for the novels) where he is originally from and where he worked for many years, while also teaching and studying at Marshall University.
Beginning in 1980, he embarked on a new adventure there when he started Rattler Crafts, an art business designed to recreate the ancient stone age past in order to bring this knowledge to the general public through presentations and sales of reproductions based upon totally authentic research and materials. For seventeen years, Rattler Crafts, became an international sales success, as well as an award-winning crafts show endeavor, exhibiting at exclusive art and craft venues from Lincoln Center to Columbus Winterfair, along with many seasonal and large theme oriented outdoor shows and festivals. Thousands of customers were reached and Mr. Kuhn is gratified in the knowledge that his recreations are prized possessions in homes, private collections, and museum displays, both in the states and abroad. During his many presentations and demonstrations he was often asked when he was going to start writing books about his discoveries concerning ancient technology and the lives of the peoples of the ice and stone ages. That day has finally arrived with the publication of the first book in the series, The Stone Breakers.
Prior to his archaeological experience, the author served as a Marine Corps officer during the Vietnam era, and has subsequently held various teaching and consulting positions in several research fields.  Such activities have helped bring him a unique perspective on the human condition at all levels, adding to the vividness and human quality he can bring to his fictional characters and tightly plotted dramas, regardless of the time period portrayed.
From 2000 to 2005 Mr. Kuhn worked as an English teacher in the public schools of South Carolina while also teaching anthropology and geography part-time at Midlands Technical College in Columbia, SC until 2010. This experience renewed his interest in writing and in experimenting with a new fictional genre:  the anthropological novel.  He is currently retired and residing in Columbia SC where he continues to explore both new and old issues in American archaeology and plan new writing projects, including the Blog accompanying this website.